GROBO is the first boiler manufacturer that has been certified with ISO9001 in Taiwan, a specialist in design and manufacture of boilers, pressure vessels, air heating systems and piping projects. Since established in 1986, with the concept of "Growth, Permanence, and Excellence", we always hold to sincere attitude and keep to the perfect service to gain customers' trust and good comment.
During the past decade of operation, we have always stood on customers' demands and striven to set up a service network of high efficiency, quality and reliability. Because the energy crisis and pollution control have become the serious problems in the world, how to economize energy and to improve environmental quality are the two chief considerations for the government and customers. GROBO will continuously develop and research in the related fields of thermal energy to provide newer and more efficient equipment related thermal energy and perfect service quality.

GROBO continuously creates the frontiers and actively brings in advanced software and hardware apparatus to provide our staff newer and more efficient education. In order to satisfy the customers' demands, we always absorb new information to design perfect and functional products.
We do our best to achieve perfection in all products. Before delivered from our factory, all products must test through strict quality control with imported computer devices. For any problem about design, manufacture, installation and maintenance, our professional engineers will make the most correct diagnosis and create the most efficient plan. And what is more important, we provide top-grade manufacturing quality to help our clients achieving the most economic efficiency.
---

1986

GROBO Co. is established

1992

We began doing business and engaged in manufacturing all kinds of air heating systems, boilers, pressure vessels and in design for piping projects.

1994

We changed our organization from limited company to corporation.

1995

We invested in building new factory so as to handle the great deal of business volume owing to the continuous growth in domestic market and export trade.

1998

We had been certified with ISO9001 by RWTUV, being the first boiler manufacturer approved with ISO9001.

1999

We linked up our management system with internet through computer information system.

2000

We used the new Corporate Identity System (CIS) to create our own appearance and sell with the logo "" over the world.

2001

We extended our factory building so as to cope with the fast turnover.

2004

成功研發「熱媒比例三方控制閥」及「熱媒停止閥」,投入量產上市銷售。

2010

投入機械手自動焊接設備生產,對於焊接品質及製造工藝有極大的效能並提供更完美的產品公諸於使用客戶。
---

Growth- Under the optimistic, enthusiastic, and innovative culture, we mutually learn to grow up.
Permanence- With our effort and customers' support, we aim at permanent management.
Excellence- With fine perspective, we do our best to reach target and achieve excellence.

---

Create the happy life garden of mutual teaching and learning in Grobo. Bring the eternal satisfaction to the customers, and the continuous growing in the company, To be the national best reputation company in thermal energy engineering service and equipment company.
---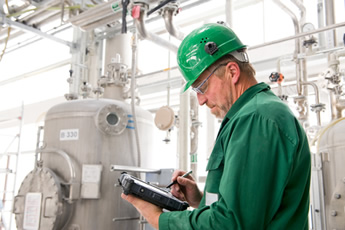 Our staff should devote to design, development, manufacturing and service of thermal energy equipment. And should study to develop top technique with enthusiastic attitude so as to satisfy our customers and to pursue the perfection in overall quality management system.